Bruce Bewarder passed away on Monday, September 25, 2017. Bruce was known as Fresno's top Volkswagen guru. He is preceded in death by his wife, Donna Bewarder; son, Randy Bewarder; and his sweetheart, Beth Neff. He is survived by his son, Rick Bewarder and his wife Melanie. He is also survived by his grandchildren, Mandy Lorenzi, Jondee Bewarder, Cody Bewarder, Olivia Hatfield, Alexcias Durham, Shane Bewarder, and Arieanne Bewarder, along with their spouses; 11 great-grandchildren; nieces; nephews; many other family members; and his beloved dog Sammy.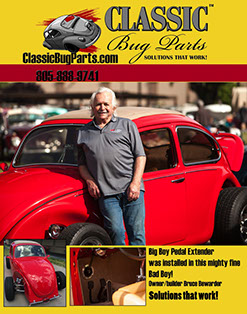 Bruce and Sammy taking care of business.
One of many feature stories documenting Bruce's amazing work. He will be greatly missed by the club membership that knew him and his workmanship well.
A peek into the shop where all the magic happened. Bruce had dedicated most of his life to his love of VW custom culture and was a legacy founding member of N.O.S.
© 2017 Made with

by BarkingKittyDesign.com
Volkswagen and VW are registered trademarks of Volkswagen AG and Volkswagen of America. The New Old Stock Car Club (N.O.S.) is an independent enthusiast car club and is not affiliated with or endorsed by Volkswagen AG or VWoA Inc.